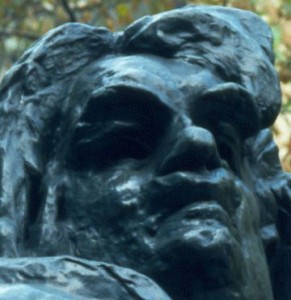 Honoré de Balzac, France's famed novelists is paid tribute by Rodin in this 1898 sculpture. Although taking 7 years to complete the works was not received well and considered a failure by critics at the time. Yet Rodin's work has become an sculpture unstuck in time playing a critical role in our history of art. The statue was not even cast in bronze until 22 years after the death of Rodin, a common theme in Rodin's bronzes is the notion of posthumous casting, that is recasting of works after the death of the artist. As long as the plaster casts remained (many artist destroyed them) copies of the sculpture can be created relating the works to more like that of the plastic medium of photography than realm of sculpture. This idea might have been on the mind of Edward Steichen when he created his famous early 1911 photo of the work.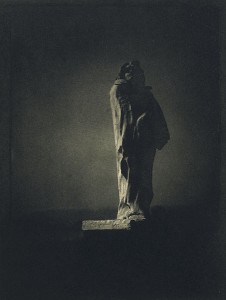 Yet Balzac makes an appearance again when the question of modernism and what is the role of sculpture is supposed to play. We often think of sculpture as a monument, but what exactly is Balzac a monument too? Rodin's work is quite clearly unheroic and unmonumental. This idea was identified and explored by Rosalind Krauss in her famous Sculpture in the Expanded Field essay which is a must read for thinking about contemporary sculpture.
What better reason than to let Balzac continue to happily repeat across history on the front of your shirt where you can field questions such as "What the hell is that ugly thing?" and "What exactly is he doing with his hands under there?".
Check out our Balzac shirt at our Etsy Store